IMPRINT: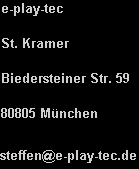 PC-Fax: 089 - 323 07 652

WEEE-Reg.-Nr DE 89820408
VAT-ID-Nr. upon request

General terms of business: All business is based on the Allgemeinen Geschäftsbedingungen of e-play-tec. Customers agree with the terms and conditions herein.

Intelectual properties: All with e-play-tec published contributions and pictures are in copyright matters protected. Any commercial use requires previous written permission. All rights are reserved. Any reproductions only with written permission of e-play-tec. From the publication it cannot be concluded that used designations are free of third parties rights.


Responsibility: All information are given with best knowledge, however without guarantee. If unfounded information or error should be contained, a recourse is only possible in case of rough negligence.
Links: e-play-tec it dissociates itself expressly from contents of the linked sites with the consequence that legally no responsibility is taken. Linked sites do not represent the opinion of e-play-tec.

If any related links are not legally conform, please send an email to:



We will then immediately remove this link.

Privacy policy Data protection
The operators of these pages take the protection of your personal data very seriously. We treat your personal data confidentially and in accordance with the statutory data protection regulations and this data protection declaration. The use of our website is generally possible without providing personal data. As far as on our sides personal data (for example name, address or e-mail addresses) are raised, this takes place, as far as possible, always on voluntary basis. This data will not be passed on to third parties without your express consent. We would like to point out that data transmission over the Internet (e.g. communication by e-mail) can have security gaps. A complete protection of data against access by third parties is not possible.

Right to information, deletion, blocking
You have the right to free information about your stored personal data, their origin and recipients and the purpose of data processing as well as a right to correction, blocking or deletion of these data at any time. You can contact us at any time at the address given in the imprint if you have any further questions on the subject of personal data.
Objection advertising mails
The use of contact data published within the scope of the imprint obligation to send unsolicited advertising and information material is hereby objected to. The operators of these pages expressly reserve the right to take legal action in the event of unsolicited advertising information, such as spam e-mails.
Source: eRecht24