IMPRINT: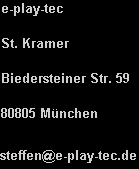 PC-Fax: 089 - 323 07 652

WEEE-Reg.-Nr DE 89820408
VAT-ID-Nr. upon request

General terms of business: All business is based on the Allgemeinen Geschäftsbedingungen of e-play-tec. Customers agree with the terms and conditions herein.

Intelectual properties: All with e-play-tec published contributions and pictures are in copyright matters protected. Any commercial use requires previous written permission. All rights are reserved. Any reproductions only with written permission of e-play-tec. From the publication it cannot be concluded that used designations are free of third parties rights.


Responsibility: All information are given with best knowledge, however without guarantee. If unfounded information or error should be contained, a recourse is only possible in case of rough negligence.
Links: e-play-tec it dissociates itself expressly from contents of the linked sites with the consequence that legally no responsibility is taken. Linked sites do not represent the opinion of e-play-tec.

If any related links are not legally conform, please send an email to:



We will then immediately remove this link.